Activity Description
The studio was created to provide Bahrain with a sanctuary in the heart of the frantic city life. A place, which is tranquil and peaceful yet vibrant. A space where people recharge and de-stress themselves in order to go back into their lives and communities with more compassion, strength and knowledge.
Open to both men and women, Pure Yoga classes take place in studios with monitored heating of 40-43ºC with humidity of 60-90, created through a humidifier, which also releases fresh oxygen. A hot yoga session that lasts around 60 minutes consists of a sequence of 26 postures that that work every part of the body without any extraneous elements.
Trainer: Kim Benting
Facilities: Big studio, Spacious changing rooms with shower rooms.
Schedule: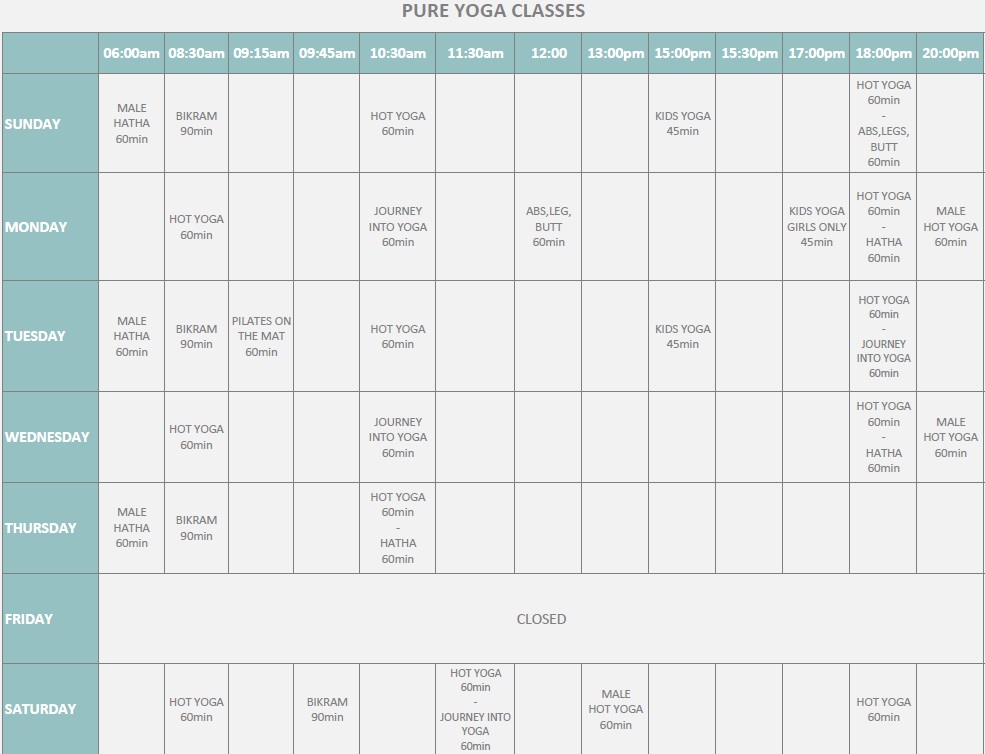 Package Options:

Different package options are available for your convenience starting form a single drop-in session all the way to 1 year membership. Prices can be found below.
Payment Methods:
Online (Credit/Debit Cards)
Cash upon arrival*

* Book the session on Tamarran.com and pay the cash when you reach there.
Terms and Conditions:
Class timing is subject to change or cancellation based on the availability

Memberships will not be extended beyond the stated expiry date.

Memberships are not transferable or refundable
All memberships and packages activates on the date of first class attended (not date of purchase)